Published on 11/03/2017 9:05 am
Enjoy the Classy Appeal of Netted Sarees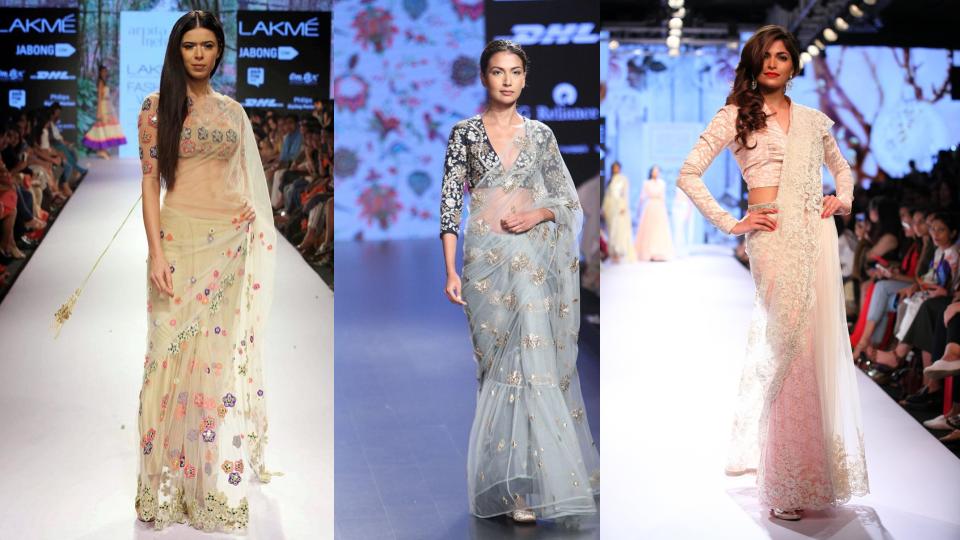 Wearing netted ethnic clothes is still considered a slightly unconventional move, but it has its roots in mainstream Bollywood fashion from a few decades ago. Netted sarees, for instance, are much loved for their seamless combination of innocence and sensuality and are an iconic Bollywood fashion.
For many women, sarees in net are a great way to get a classy, sophisticated look that sets them apart from the crowd. To offset the simplicity of this fashion enthusiastic designers often add interesting silhouettes, borders, embellishments, designs and blouses in order to create a more visually appealing look for a netted saree. The contrast of soft and simple net fabrics with dazzling metallic work is often combined to create the jazzy and glamorous net wedding saree, party saree or casual wear which are more likely to come with bright colors and embroidered design borders.
Have you thought about designer net sarees for weddings? It is a very niche fashion statement to wear a net saree for wedding and the one that can surely be counted on to create a fashion sensation. In order to dress up netted sarees and make them more apt for ornate and traditional wedding functions, designers often choose to add intricate and beautiful ethnic work such as zari, zardosi, Resham, ek taar, gota patti, aari and booti.
If you are seeking to create the ethnic chic vibe of a net wedding saree search for net sarees with price online. You will be amazed to find the modern style lace borders, velvet borders, crystal designs and sequins embellishments frequently used to create ravishing designer net sarees.
Currently fashion designers often make use of net as a base fabric in the newer, more modern styles of sarees which are not bound to follow any traditional rules of fashion. Fortunately a new and extremely trendy innovation in ethnic fashion is emerging in the form of the net saree. You will agree that this is a very daring type of fashion garment as net itself is an open fabric with a transparent appearance and when combined with the translucent embellishments it gives the sari a very sensual look and feel. A net saree embellished with large borders and very colorful borders and pallus made of heavier materials like velvet or brocade is almost always a show stopper. To get compliments add netted touch of regality and luxury to the garment.
Online shopping is one of the biggest reasons why women today are much more open to experimentation in versatile fashion garments. How about indulging in some online shopping for beautiful designer net sarees at affordable prices right from the comfort of your homes? Shop online for innovative, unconventional styles in net sarees and access fashion followed by women across the world!